Mekong Delta saves winter-spring crop from drought, saltwater intrusion
21/05/2021
HCM CITY – The Cửu Long (Mekong) Delta has protected its winter-spring crops from saltwater intrusion and drought by taking preventive measures in the ongoing dry season.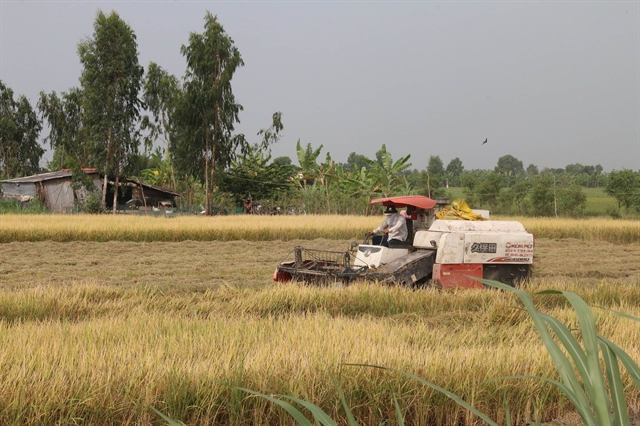 Speaking at a meeting in Cần Thơ City last week, Lê Thanh Tùng, deputy head of the Ministry of Agriculture and Rural Development's Plant Cultivation Department, said the yield and quality of the crop, especially in the delta's coastal areas, would not be adversely affected.
These achievements were the results of localities taking measures such as sowing the winter – spring rice crop earlier than usual and growing short-term rice varieties, he said.
The delta, the country's largest rice producer, sowed about 1.5 million hectares of rice for the 2020 – 21 winter – spring crop. Farmers have harvested about 350,000ha so far, according to the Plant Cultivation Department. Harvesting of the remaining rice areas will be done until May.
The winter – spring rice is estimated to have an average yield of more than 6.9 tonnes per hectare, up nearly 100 kilogrammes against the last winter – spring rice crop. Farmers in the delta are getting good prices, at VNĐ6,800 – 7,500 a kilo.
Only small winter – spring rice areas in some provinces like Trà Vinh, Long An and Bạc Liêu will face saltwater intrusion and drought at the end of the crop, according to the South Institute of Water Resources Research.
In recent years, saltwater intrusion from the sea through river mouths has severely affected agricultural production in the dry season.
The peak of saltwater intrusion will occur between February 25 and March 4, and the level is estimated to equal to the 2016 figure but lower than last year's level, according to the South Institute of Water Resources Research.
The Plant Cultivation Department has told delta localities to store fresh water through various means like irrigation reservoirs. Water resources need to be ensured for freshwater and brackish-water areas in the delta's central region, and fresh water should be stored in coastal areas.
The delta accounts for 47 per cent of the country's total rice farming land and produces 56 per cent of the country's rice output. It contributes up to 90 per cent of the country's rice export volume.– VNS
Source: Vietnamnews